peoplepill id:
claude-lelouch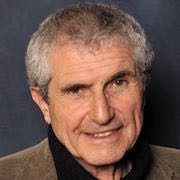 French film director, writer, cinematographer, actor and producer
Claude Lelouch
Claude Lelouch
The details (from wikipedia)
Biography
Claude Barruck Joseph Lelouch (French: [ləluʃ]; born 30 October 1937) is a French film director, writer, cinematographer, actor and producer.
Life and career
Lelouch was born in the 9th arrondissement of Paris, the son of Charlotte (née Abeilard) and Simon Lelouch.
His father was born to an Algerian Jewish family and his mother was a convert to Judaism.
His father gave him a camera to give him a fresh start after his failure in the baccalaureat. He started his career with reportage – one of the first to film daily life in the Soviet Union, the camera hidden under his coat as he made his personal journey. He also filmed sporting events like the 24 Hours of Le Mans and the Tour de France.
His first full-length film as director, Le Propre de l'homme, was decried by the critics – 'Claude Lelouch, remember this name well, because you will not hear it again' – Cahiers du cinéma said. La femme spectacle (1963), following prostitutes, women shopping, going for nose-jobs, was censored for its misogynist tendency. A Man and a Woman changed his fortunes and was met with favour even by the Cahiers group.
The 1981 musical epic Les Uns et les Autres is widely considered as his masterpiece, and his credits now add up to 50 or so films. His 1976 film, C'était un rendez-vous, purportedly features a Ferrari 275 GTB being driven at extreme speed through the streets of Paris at dawn. The entire short is shot from the point of view of the car. Legend has it that Lelouch was arrested after it was first shown publicly.
In a 2006 interview, Lelouch stated that he drove his own Mercedes-Benz 450SEL 6.9 in the film and created a soundtrack of the radically different sounding Italian sports car for effect.
He has collaborated more than two dozen times with composer Francis Lai. They scored a great hit with the piece 'chabadabada' for the film A Man and a Woman sung by Nicole Croisille and Pierre Barouh, and more than 300 versions of the song exist.
Personal life
In 1993 he was the President of the Jury at the 18th Moscow International Film Festival.
Honours
2016 ; Commander in the Order of the Crown.
Awards
Lelouch's A Man and a Woman won the Palme d'Or at the 1966 Cannes Film Festival, as well as two Oscars including Best Foreign Language Film.
His 1967 film, Vivre pour vivre, was nominated for the Best Foreign Language Film Oscar. In 1971, he won the David di Donatello for Best Foreign Directing for Le Voyou.
Filmography
Le Propre de l'homme (1960)
L'Amour avec des si (1962)
La Femme spectacle (1963)
Une fille et des fusils (1964)
Les Grands Moments (1965)
Pour Un Maillot Jaune (1965)
A Man and a Woman (1966)
Vivre pour vivre (1967)
La Vie, l'amour, la mort (1968)
13 jours en France (1968)
Un Homme qui me plaît (1969)
Le Voyou (1970)
Smic, Smac, Smoc (1971)
L'aventure c'est l'aventure (1972)
La bonne année (1973)
Visions of Eight (1973)
Mariage (1974)
Toute une vie (1974)
Le Bon et les méchants (1975)
Le Chat et la souris (1975)
C'était un rendez-vous (1976)
Si c'était à refaire (1976)
Un autre homme, une autre chance (1977)
Robert et Robert (1978)
À nous deux (1979)
Les Uns et les Autres (1981)
Édith et Marcel (1982)
Viva la vie (1983)
Partir, revenir (1984)
Attention bandits! (1986)
Un homme et une femme : vingt ans déjà (1986)
Itinéraire d'un enfant gâté (1988)
Il y a des jours... et des lunes (1989)
La Belle Histoire (1992)
Tout ça... pour ça ! (1992)
Les Misérables (1995)
Lumière et compagnie (1995)
Hommes, femmes, mode d'emploi (1996)
Hasards ou coïncidences (1997)
Une pour toutes (1999)
And now... Ladies and Gentlemen (2001)
11'09"01 September 11 (2002; segment "France")
Les Parisiens (2004)
Le Courage d'aimer (2005)
Roman de Gare (2007; he also appears as "Hervé Picard", a pseudonym)
Ces amours là (2010)
D'un film à l'autre (2011)
Salaud, on t'aime (2014)
Un plus une (2015)
Chacun sa vie et son intime conviction (2017)
comments so far.
Comments
Sections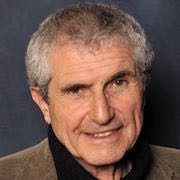 The basics
Life and career
Personal life
Honours
Awards
Filmography