peoplepill id:
john-nance-garner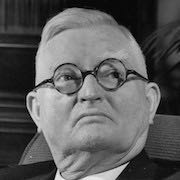 American politician
John Nance Garner
John Nance Garner
The details (from wikipedia)
Biography
John Nance Garner IV, known among his contemporaries as "Cactus Jack" (November 22, 1868 – November 7, 1967), was an American Democratic politician and lawyer from Texas. He was a Texas state representative from 1898 to 1902, and U.S. Representative from 1903 to 1933. He was the 39th Speaker of the House from 1931 to 1933. In 1932 and 1936 he was elected the 32nd Vice President of the United States, serving from 1933 to 1941. A conservative Southerner, Garner opposed the sit-down strikes of the labor unions and the New Deal's deficit spending. He broke with President Franklin D. Roosevelt in early 1937 over the issue of enlarging the Supreme Court, and helped defeat it on the grounds that it centralized too much power in the President's hands.


Biography
Early life and family
Garner was born in the village of Detroit in Red River County in northeastern Texas, to John Nance Garner III and his wife, the former Sarah Jane Guest. Garner's home place still stands today, approximately 2 blocks from the tiny town's center. Garner attended Vanderbilt University in Nashville, Tennessee, for one semester before dropping out and returning home. He was a member of the Pi Kappa Alpha fraternity. He eventually studied law, was admitted to the bar in 1890, and began practice in Uvalde, Uvalde County, Texas.
In 1893, Garner entered politics, running for county judge of Uvalde County. (Although the county judge in Texas is now primarily the chief administrative officer of a county, comparable to the mayor of a city, the office is a judicial position, and the county judge sits in small civil cases, misdemeanor criminal cases, and probate cases.) At that time, Democrats entirely dominated politics in Texas, and the Democratic nomination for an office was tantamount to election. Thus the Democratic primary election was the real election, with the general election being a formality.
Garner was opposed in the County Judge primary by a woman—Mariette Rheiner, a rancher's daughter. Two years later, on 25 November 1895, she married Garner in Sabinal, Texas. They had one child, Tully Charles Garner.
Garner was elected County Judge, and served until 1896.
Texas politics
Garner was elected to the Texas House of Representatives in 1898, and re-elected in 1900. During his service, the legislature selected a state flower for Texas. Garner fervently supported the prickly pear cactus for the honor and thus earned the nickname "Cactus Jack." (The Bluebonnet was chosen.)
In 1901 Garner voted for the poll tax, a measure passed by the Democratic-dominated legislature to make voter registration more difficult and reduce the number of black, minority and poor white voters on the voting rolls. This ended challenges to Democratic power, disfranchised most minority voters until the 1960s, and Texas became a one-party state.
In 1902, Garner was elected to the United States House of Representatives from the newly created Texas's 15th congressional district, a narrow strip reaching south to include tens of thousands of square miles of rural areas. He was elected from the district fourteen subsequent times, serving until 1933. His wife was paid and worked as his private secretary during this period.
Garner was chosen to serve as minority floor leader for the Democrats in 1929, and in 1931 as Speaker of the United States House of Representatives, when the Democrats became the majority.
Garner supported passage of the federal income tax but opposed most tariffs except for those on wool and mohair, which were important to his Texas base. He also believed in rural investment, bringing taxpayer dollars to farmers of the Brush Country region of South Texas.
Garner was popular with his fellow House members in both parties. He held what he called his "board of education" during the era of Prohibition, a gathering spot for lawmakers to drink alcohol, or as Garner called it, "strike a blow for liberty." (The "board of education" was continued by future Speaker Sam Rayburn after Prohibition had ended and Garner had left the House.)
Vice Presidency
In 1932, Garner ran for the Democratic Presidential nomination. It became evident that Franklin D. Roosevelt, the governor of New York, was the strongest of several candidates, but although he had a solid majority of convention delegates, he was about 100 votes short of the two-thirds required for nomination. Garner cut a deal with Roosevelt, becoming his Vice-Presidential candidate.
Garner was re-elected to the Seventy-third Congress on November 8, 1932, and on the same day was elected Vice President of the United States. He was the second man, Schuyler Colfax being the first, to serve as both Speaker of the House and President of the Senate. Garner was re-elected Vice President with Roosevelt in 1936, serving in that office in total from March 4, 1933, to January 20, 1941.
Like most Vice Presidents in this era, Garner had little to do and little influence on the President's policies. He famously described the Vice-Presidency as being "not worth a bucket of warm piss". (For many years, this quote was bowdlerized as "warm spit".)
During Roosevelt's second term, Garner's previously warm relationship with the President quickly soured, as Garner disagreed sharply with him on a wide range of important issues. Garner supported federal intervention to break up the Flint Sit-Down Strike, supported a balanced federal budget, opposed the Judiciary Reorganization Bill of 1937 to "pack" the Supreme Court with additional judges, and opposed executive interference with the internal business of the Congress.
During 1938 and 1939, numerous Democratic party leaders urged Garner to run for President in 1940. Garner identified as the champion of the traditional Democratic Party establishment, which often clashed with supporters of Roosevelt's New Deal. The Gallup Poll showed that Garner was the favorite among Democratic voters, based on the assumption that Roosevelt would defer to the longstanding two-term tradition and not run for a third term. Time magazine characterized him on April 15, 1940:
Cactus Jack is 71, sound in wind & limb, a hickory conservative who does not represent the Old South of magnolias, hoopskirts, pillared verandas, but the New South: moneymaking, industrial, hardboiled, still expanding too rapidly to brood over social problems. He stands for oil derricks, sheriffs who use airplanes, prairie skyscrapers, mechanized farms, $100 Stetson hats. Conservative John Garner appeals to many a conservative voter.
Some other Democrats did not find him appealing. In Congressional testimony, union leader John L. Lewis described him as "a labor-baiting, poker-playing, whiskey-drinking, evil old man".
Garner declared his candidacy. Roosevelt refused to say whether he would run again. If he did, it was highly unlikely that Garner could win the nomination, but Garner stayed in the race anyway. He opposed most of Roosevelt's policies, and on principle, opposed presidents serving third terms. At the Democratic National Convention, Roosevelt arranged a "spontaneous" call for his renomination, and won on the first ballot. Garner got only 61 votes out of 1,093. Roosevelt chose Henry A. Wallace to be the Vice Presidential running mate.
Final years and legacy
Garner left office on January 20, 1941, ending a 46-year career in public life. He retired to his home in Uvalde for the last twenty-six years of his life, where he managed his extensive real estate holdings, spent time with his great-grandchildren, and fished. Throughout his retirement, he was consulted by active Democratic politicians and was especially close to Roosevelt's successor Harry S. Truman.
On the morning of Garner's 95th birthday, November 22, 1963, President John F. Kennedy called to wish him a happy birthday. This was just hours before Kennedy's assassination. Dan Rather states that he visited the Garner ranch that morning to film an interview with Garner, where Miss Texas Wool was in attendance, and that he then flew back to Dallas from Uvalde to deposit the film at then-CBS affiliate KRLD-TV (now Fox owned-and-operated KDFW-TV).
Garner died on November 7, 1967, at the age of 98 years and 350 days, 15 days before his 99th birthday, making him, as of 2017, the longest-living Vice President or President in United States history, a record which was previously held by Benjamin Harrison's Vice President, Levi P. Morton (who died in 1920 on his 96th birthday). He is interred in Uvalde Cemetery.
Garner and Schuyler Colfax, Vice President under Ulysses S. Grant, are the only two Vice Presidents to have been Speaker of the House of Representatives prior to becoming Vice President. As the Vice President is also the President of the Senate, Garner and Colfax are the only people to have served as the presiding officer of both Houses of Congress.
The popular Garner State Park, located 30 miles (48 km) north of Uvalde, bears his name, as does Garner Field just east of Uvalde. The women's dormitory at Southwest Texas Junior College in Uvalde bears Mrs. Garner's name. John Garner Middle School, located in San Antonio's North East Independent School District, is also named after him.
John Nance Garner Museum in Uvalde, Texas, undergoing renovation in 2010/2011

Garner Museum restoration is being financed by the Briscoe Center of the University of Texas at Austin.
comments so far.
Comments
Sections