peoplepill id:
joseph-e-levine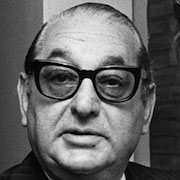 Film producer and distributor
Joseph E. Levine
Joseph E. Levine
The details (from wikipedia)
Biography
Joseph Edward Levine (September 9, 1905 – July 31, 1987) was an American film producer. At the time of his death it was said he was involved in 497 films as a producer, distributor or financier. These included Two Women, Contempt, The 10th Victim, Marriage Italian Style, The Lion in Winter, The Producers, The Graduate, The Night Porter, A Bridge Too Far and Carnal Knowledge. Levine was also responsible for the US releases of Godzilla, King of the Monsters!; Attila; and Hercules, which helped revolutionize US film marketing.
Biography
Birth and early life
Levine was born in a slum in Boston, Massachusetts, on September 9, 1905. The youngest of six children of a Russian-Jewish immigrant tailor, Joe did whatever work he could to help support his mother, a widow who had remarried only to have her second husband abandon her. This led Joe (in his later years) to tell an interviewer that he had known (in his words) "not one happy day" growing up. At 14 years of age he was hired for full-time work in a dress factory and left school, never to re-enroll.
In the 1920s in partnership with two of his older brothers, Joe opened a basement dress shop, whose stock the Levine brothers obtained on consignment. Nan Robertson's obituary of him for the New York Times notes that he "briefly drove an ambulance, manufactured little statues of Daddy Grace, a black evangelist, and operated the Cafe Wonderbar in Boston's Back Bay" during this period and during the early and middle 1930s.
Marriage and early career
In 1937, Levine encountered Rosalie Harrison, then a singer with Rudy Vallee's band, and left the restaurant business for her; within a week of their engagement, at Harrison's insistence, Levine sold the Cafe Wonderbar. They married the following year and moved to New Haven, Connecticut, where Joe bought, and commenced to run, a movie house. Eventually, he became a successful, if small-time, distributor and exhibitor throughout New England, buying "decrepit" Westerns at low rates for his movie houses.
One of Levine's most unusual successes was Body Beautiful, a sex-hygiene film which he saw drawing a line of prospective ticket-buyers who were braving a snowstorm to that end. He later remembered buying it to show in his theaters because "it made me sick."
World War II and double bills
The Second World War led Levine to run an almost jingoistic promotion of the film Ravaged Earth, which had been shot in China. Renting the Shubert Theater in his native Boston, he spent large sums of his own money on advertisements for the film that he wrote himself; these reflected the anti-Japanese sentiments of the times and used language that would later be considered offensive. Robertson's obituary quotes one of the slogans as reading: "Jap Rats Stop at Nothing - See This. It Will Make You Fighting Mad."
Levine discovered that double features with the same cast members or similar titles brought in higher box-office revenues; this led him to present two films together because they had similar titles. When, in 1956, he bought the Australian film Walk Into Paradise, its low box-office revenues led him to change the title to Walk Into Hell, which gave it box-office success.
Known producing career
Embassy Pictures is born
In 1956, the year he brought Walk Into Paradise to the United States under the title Walk Into Hell, Levine founded Embassy Pictures Corporation, an independent studio and distributor which became responsible for such films as Godzilla, King of the Monsters! in 1956, Attila and Hercules, both in 1958, The Carpetbaggers, Harlow, The Graduate, A Bridge Too Far and The Lion in Winter.
The promotion of Sophia Loren
Levine's Embassy Pictures began dealing in art films, often European ones, in the 1960s. During that decade, he reached the peak of his career and his prestige, which he was able to sustain into the 1970s.
In 1961, Levine bought North American distribution rights for Two Women after seeing no more than three minutes of its "rushes." He was not credited as the "executive producer" of Two Women, which was based on a novella written by Alberto Moravia, had been directed by Vittorio de Sica, and starred Sophia Loren and Eleanora Brown, who acted out the respective roles of a mother and her young daughter whom World War II had displaced from their home. One segment of it showed Moroccan soldiers raping the mother and the daughter.
Levine's promotional campaign focused on one still photograph, which showed Loren, as the mother, wearing a torn dress, kneeling in the dirt, and weeping with rage and grief. Predicting that she would win the Academy Award for her performance, Levine brought Loren to the United States for interviews, bought space for, and placed, large advertisements in newspapers, and saw to it that Two Women appeared in the cities of residence of Academy Award jury members.
Levine's efforts paid off when Loren became the first cast member of a foreign-language film to win the Academy Award for best actress. It came to be said of him that he "nursed" Two Women towards its ultimate popularity and success.
Known trademarks
Levine became famous in the industry for his massive advertising campaigns, starting with Hercules in 1959. He is also responsible for having brought the Japanese film Gojira to the American general public under the title Godzilla, King of the Monsters! in 1956. Levine had hired Terry Turner, who had been a former RKO Pictures exploitation expert of the late 1920s and 1930s, where he had exploited King Kong amongst other films. Levine's and Turner's exploitation campaigns were designed to appeal both to the general public and to the film industry and exhibitors.
Known honors
In 1964, Levine received the Golden Globe Cecil B. DeMille Award in recognition of his lifetime achievement in motion pictures.
Later career
Levine sold Embassy to Avco for $40 million. He later called this a "horrible mistake which made me rich".
Death
Levine died on July 31, 1987, in Greenwich, Connecticut, at the age of 81. His known survivors, in addition to his widow Rosalie, included his son Richard Levine, who then lived in Greenwich, his daughter Tricia Levine, and two grandchildren, whose names the writer of his August 1 obituary in The New York Times, Nan Robertson, did not provide.
Appraisal
"I have a knack for betting on unknown directors and actors and getting my money's worth," said Levine.
Levine said his favorite of his films was The Lion in Winter (1968).
Quotes
"You can fool all of the people if the advertising is right."
Popular culture
In an issue of the Fantastic Four (#48), The Thing mentions, upon seeing the sky aflame, that it could be just Joseph E. Levine advertising one of his movies.
comments so far.
Comments
Reference sources
References
Sections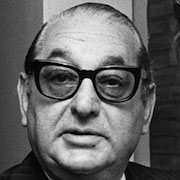 The basics
Biography
Later career
Quotes
Popular culture