peoplepill id:
walter-annenberg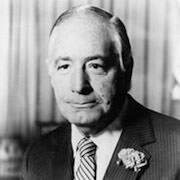 Businessman, Ambassador
Walter Annenberg
Walter Annenberg
The details (from wikipedia)
Biography
Walter Hubert Annenberg (March 13, 1908 – October 1, 2002) was an American publisher, philanthropist, and diplomat. He built up his family's magazine business with great success, extending it into radio and TV. At Sunnylands, his grand estate near Palm Springs, California, he entertained royalty, presidents and many other celebrities. He was United States Ambassador to the United Kingdom from 1969 to 1974. A keen philanthropist, he was a trustee of the Eisenhower Fellowships, and is believed to have donated $2 billion to educational establishments and art galleries. He also is remembered for his media campaigns against the Barnes Foundation and the wish to relocate its art collection.


Early life
Walter Annenberg was born to a Jewish family in Milwaukee, Wisconsin, on March 13, 1908. He was the only son of Sadie Cecelia née Freedman (1879–1965) and Moses "Moe" Louis Annenberg, who published the Daily Racing Form and purchased The Philadelphia Inquirer in 1936. Annenberg was a stutterer since childhood.
He had seven sisters, whose names were Diana Annenberg (1900–1905), Esther "Aye" Annenberg Simon Levee (1901–1992), Janet Annenberg Hooker (1904–1997), Enid Annenberg Haupt (1906–2005), Lita Annenberg Hazen (1909–1995), Evelyn Annenberg Jaffe Hall (1911–2005), and Harriet Beatrice Annenberg Ames Aronson (1914–1969).
The Annenberg family moved to Long Island, New York, in 1920, and Walter attended high school at the Peddie School in Hightstown, New Jersey, graduating in 1927. He dropped out of the Wharton School of the University of Pennsylvania, and never attained a college degree. While in college, he was a member of Zeta Beta Tau, a traditionally Jewish fraternity.
Annenberg was greatly affected by tax evasion charges and other scandals that involved his father in the 1930s. A significant part of his adult life was dedicated to rehabilitating the family's name through philanthropy and public service.
Business life
After his father's death in 1942, Annenberg took over the family businesses, making successes out of some that had been failing. He bought additional print media as well as radio and television stations, resulting in great success. One of his most prominent successes was the creation of TV Guide in 1952, which he started against the advice of his financial advisors. He also created Seventeen magazine. During the 1970s, TV Guide was making a $600,000 to $1,000,000 profit per week.
While Annenberg ran his publishing empire as a business, he was not afraid to use it for his own political ends. One of his publications, The Philadelphia Inquirer, was influential in ridding Philadelphia of its largely corrupt city government in 1949. It campaigned for the Marshall Plan following World War II. and attacked McCarthyism in the 1950s,
In 1966, Annenberg used the pages of The Inquirer to cast doubt on the candidacy of Democrat Milton Shapp for governor of Pennsylvania. Shapp was highly critical of the proposed merger of the Pennsylvania Railroad with the New York Central Railroad and was pushing the US Interstate Commerce Commission to prevent it from occurring. Annenberg, who was the biggest individual stockholder of the Pennsylvania Railroad, wanted to see the merger go through, which it eventually did, and he was frustrated with Shapp's opposition. During a press conference, an Inquirer reporter asked Shapp if he had ever been a patient in a mental hospital. Never having been in one, Shapp simply said "no." The next day, a five-column front page Inquirer headline read, "Shapp Denies Mental Institution Stay." Shapp and others have attributed his loss of the election to Annenberg's newspaper.
Philanthropy and later life
Even while an active businessman, Annenberg had an interest in public service. In 1953 he became one of the founding trustees of Eisenhower Fellowships. After Richard M. Nixon was elected President, he appointed Annenberg as ambassador to the Court of St James's in the United Kingdom. In 1969, under pressure after the Shapp controversy, Annenberg sold The Inquirer and the Philadelphia Daily News, which he bought in 1957, to Knight Newspapers for $55 million. After being appointed as ambassador, he became quite popular in Britain, being made an honorary Knight Commander of the Order of the British Empire (KBE) in 1976.
Annenberg led a lavish lifestyle. His Sunnylands winter estate in Rancho Mirage, California (near Palm Springs), hosted gatherings with such people as President Ronald Reagan and First Lady Nancy Reagan, Queen Elizabeth II, Frank Sinatra, Bob Hope, Bing Crosby, Charles, Prince of Wales, and the family of Mohammad Reza Pahlavi. It was Annenberg who introduced President Reagan to British Prime Minister Margaret Thatcher, and the Reagans often celebrated New Year's Eve with the Annenbergs. President Ronald Reagan named Leonore Annenberg the State Department's Chief of Protocol in early 1981. Sunnylands covers 400 acres (1.6 km2), guard-gated on a 650-acre (2.6 km2) parcel surrounded by a stucco wall at the northwest corner of Frank Sinatra Drive and Bob Hope Drive; the property includes a golf course. The estate continues to be used for meetings and retreats by prominent people.
Annenberg established the Annenberg School for Communication at the University of Pennsylvania and the Annenberg School for Communication and Journalism at the University of Southern California. He became a champion of public television, receiving many awards, including the Presidential Medal of Freedom from President Reagan in 1986, the Linus Pauling Medal for Humanitarianism, the 1988 Eisenhower Medal for Leadership and Service, was made a Knight of the Order of St. Gregory the Great in 1998, and was named an Officer of the French Legion of Honor.
In the mid-1980s, he established the Annenberg Fellowship to Eton College, a one-year fellowship for one U.S. graduating college senior (chosen from a rotating list of U.S. universities including Duke, Harvard, Penn, Princeton, Yale, and others) to spend a year teaching and serving as a cultural ambassador to the famous British boys' school. In 1989, he established the Annenberg Foundation, and 1993, created the Annenberg Challenge, a US$500 million, five-year reform effort and the largest single gift ever made to American public education. In 1993 he and his wife Leonore were awarded the National Medal of Arts. He was elected a Fellow of the American Academy of Arts and Sciences in 1995.
He sold Triangle Publications (TV Guide, "Daily Racing Form" and a few other publications) to Australian publishing magnate Rupert Murdoch in 1988 for $3 billion (a record media price at the time), announcing that he would devote the rest of his life to philanthropy.
During his lifetime, it is estimated that Annenberg donated over $2 billion. He once said that "education... holds civilization together". Many school buildings, libraries, theaters, hospitals, and museums across the United States now bear his name. His collection of French impressionist art was valued at approximately US$1 billion in 1991 and was donated to the Metropolitan Museum of Art in New York City upon his death in 2002. In 1990, he donated $50 million to the United Negro College Fund which was the largest amount ever contributed to the organization. He was also a member of the Founding Council of the Rothermere American Institute at Oxford University, helping to raise funds for the Institute's building and library.
Annenberg was named Broadcast Pioneers of Philadelphia's Person of the Year in 1983 and was inducted into the Broadcast Pioneers of Philadelphia Hall of Fame in 1992.
In 1995, he received the S. Roger Horchow Award for Greatest Public Service by a Private Citizen, one of the Jefferson Awards for Public Service, given out annually by the American Institute for Public Service.
The Annenberg Space for Photography, dedicated to both digital images and print photography, was opened in Los Angeles' Century City in 2009 by the Annenberg Foundation and its trustees. The first exhibit featured the work of John Baldessari, Catherine Opie, Douglas Kirkland, Julius Shulman, Lauren Greenfield, and Carolyn Cole.
Personal life
Annenberg was married twice:
In 1939, he married Bernice Veronica Dunkelman. Bernice was raised in a Jewish family in Canada, the daughter of Canadian businessman David Dunkelman who was known for mass-producing low-cost suits and selling them for at a single low price of $14 at his chain of 65 retail stores. They divorced in 1950 after eleven years together. While married, Dunkelman and Annenberg had two children: a daughter, Wallis, and son, Roger. Roger committed suicide in 1962; to commemorate his death, Harvard University, where Roger was a student at the time, now has a Roger Annenberg Hall named in his honor.
In 1951, Annenberg married Leonore "Lee" Cohn. Lee was a niece of Harry Cohn, the founder and president of Columbia Pictures. Although of Jewish ethnicity, she was raised a Christian Scientist by her uncle's wife. Despite being born to Jewish families, the Annenbergs were not practitioners of Judaism; instead celebrating Easter and Christmas with family and friends.
Death
Annenberg died at his home in Wynnewood, Pennsylvania, on October 1, 2002, from complications dealing with pneumonia; he was 94 years old. He was survived by his wife, Leonore (February 20, 1918 – March 12, 2009); his daughter, Wallis; and two sisters, Enid A. Haupt and Evelyn Hall. Including those by his wife's daughters from her first two marriages (Diane Deshong and Elizabeth Kabler), he left behind seven grandchildren and six great-grandchildren.
comments so far.
Comments
Sections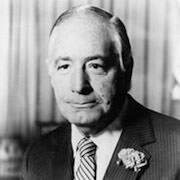 The basics
Early life
Business life
Philanthropy and later life
Personal life
Death